There are several good knots to know when fishing. Below are four of our favorite.
Palomar Knot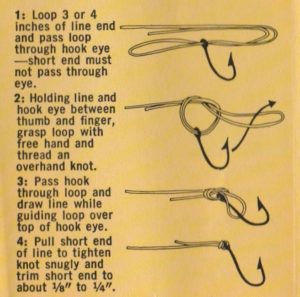 Here are the steps to tie a Palomar knot (Figure 1):
Step 1: Loop 3 to 4 inches of line and pass loop through hook eye – short end must not pass through the eye.
Step 2: While holding the line and hook eye, grasp loop with free hand and thread an overhand knot.
Step 3: Pass hook through loop and draw line while guiding loop over top of hook eye.
Step 4: Pull short end of line to tighten knot snugly and trim tag.
---